Potassium (K) is one of the three essential plant macronutrients, along with nitrogen and phosphorus, that plants need to thrive. Choosing and using potassium-based fertilizers guarantees the availability of potassium in the soil, ready for plants to take up the relatively large amounts of the nutrient they require.
Potassium increases crop yields and improves the quality of agricultural produce while also enhancing the ability of plants to resist diseases, insect attacks, cold and drought stresses, and other adverse conditions. By helping develop strong and healthy root systems, potassium increases the efficiency of the uptake and use of nitrogen and other nutrients.
Potassium and Animal Nutrition
And it is not just plants that benefit. Potassium improves the nutritional quality of products destined for animal nutrition, such as grassland and forage crops, meaning potassium is significant in livestock nutrition.
Many Roles of Potassium in Plants
The importance of potassium stems from its multiple roles in plants:
Potassium is involved in the activation of more than sixty enzymatic systems in plant cells and in the synthesis of proteins, vitamins, starch, and cellulose which ensure normal plant metabolism, plant growth, and the formation of strong tissues.
Potassium helps photosynthesis, the process through which the sugars and energy that the plant needs for its development are formed and converted.
Potassium controls the opening and closing of the leaf stomata, regulating the water status in the plant.
It is essential in starch formation and the production and translocation of sugars. Potassium is, therefore, of particular value in carbohydrate-rich crops such as sugarcane, potato, and sugar beet.
The production of starch and sugar in legumes boosted by potassium benefits the symbiotic bacteria living on the roots and thus improves nitrogen fixation.
Potassium not only increases yields but also enhances crop quality. It improves the nutritional value of grains, tubers, and fruits by increasing the contents of protein and oil in seeds, starch in tubers and seeds, and vitamin C and sugar in fruits.
With an adequate supply of potassium, cereals produce plump grains and strong stalks, making them resistant to lodging.
Potassium improves the flavor and color of fruits and increases the size of tubers and fruits. In addition, it increases the resistance to various injuries during storage and transportation, thus extending shelf life.
Symptoms of Potassium Deficiency
Plants deficient in potassium suffer in several ways. Potassium-deficient plants are prone to 'lodge' or bend over at ground level, which makes them difficult to harvest. Potassium deficiency also makes plants more susceptible to disease.
Visually, the older leaves appear to have burned edges (scorching), and since potassium is mobile in the plant, the bottom and older leaves show potassium deficiency symptoms first.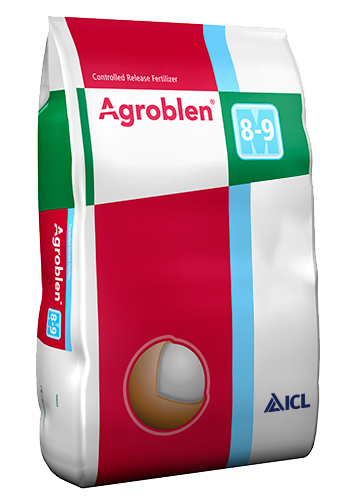 When spring has sprung, make sure your temperate and sub-tropical crops follow suit with Agroblen® 17-3.9-6.6+2.4Mg | 8-9M. This high-nitrogen granular NPK fertilizer has been specially formulated to help you establish your new temperate and sub-tropical plantations, such as avocados and citrus. With added magnesium for enhanced photosynthesis, this product is ideal for spring applications. Thanks to ICL's patented Resin Release Technology, your plants can enjoy a controlled, sustained, and reliable 8-9 month nutrient release.
Agromaster 16-8-16+5MgO+16SO3 | 5-6M has a 94% coated N / 82% coated P and K A high value Agromaster formulation enriched with magnesium, making it ideal for longer crop cycles of vegetable crops, while the high coating % of NPK makes it ideal for placement on spots, bed or by row application (for example, tomatoes, peppers and eggplant).
Agromaster Hi N | 5-6M is a 95% coated N / 51% coated P / 100% coated K product, which thanks to this valuable 2-1-1 NPK analysis enriched with a high level of Mg combines a high level of coated nutrients and adequate longevity for long crop cycles in open field or protected areas to create an essential buffer of nutrients leading to uniform growth and higher yields (for crops such as tomatoes, peppers and eggplants).