Growth. It's in our nature.
Our innovative products and industry expertise keep you on the cutting edge of sustainable plant nutrition.
A global network of experts focused on your needs
As a world leader in the fields of agriculture, food, and industrial products, ICL utilizes an unparalleled R&D infrastructure to develop innovative growing solutions to take on humanity's greatest sustainability challenges.
Expertise
Our local experts are backed by the world's largest network of dedicated agronomists, researchers, and plant nutrition professionals. From revolutionary R&D breakthroughs to customized fertility programming, fertilizer innovation is our field of expertise.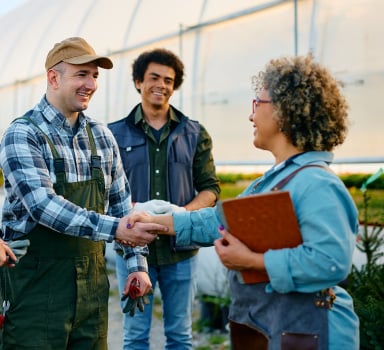 Partnership
Work with a partner that invests in your long-term success. We get to know you and your business to align our services to meet your specific needs, growing conditions, and challenges. We understand that relationships are built on trust.
Service
Benefit from our knowledge and expertise to increase your performance in the field. Our advisors work with you to devise the best plant nutrition plan to meet your specific needs and support that with consistent, dependable, high-quality products.
Let's grow, together
Growth is at the heart of everything we stand for—and at ICL we don't just talk about what might be possible in the future, we actively work with you to create it every day. We offer a full range of plant nutrition and protection products for the world's green markets including surfactants, controlled-release fertilizers, water-soluble and liquid fertilizers, and specialty granular fertilizers.
Our Ornamental Horticulture division combines cutting-edge technology with extensive research and development to craft the world's finest plant nutrition and protection portfolio. Our flagship Osmocote and Peters fertilizer brands are recognized as industry benchmarks worldwide.
Learn more about our products and brands
Ornamental Growers
As a farmer, you face the challenge of optimizing crop production to feed a growing world population while being a steward of the land. We can help you meet this challenge with industry-leading solutions. Our flagship Polysulphate and Nova brands are recognized worldwide.
Learn more about our products and brands
Farmers
Sustainability, quality, and safety come first
Sustainability
ICL believes in working together for a greener and more sustainable future. We protect the environment through energy and water consumption practices and monitoring the environmental impact of all our production processes.
Quality
Our commitment to quality assurance spans every step in the lifecycle of our products. From raw materials mined in ICL's own phosphate and potash mines to our finished plant nutrition products, we exercise stringent quality control so you can count on the highest quality products.
Safety
We're dedicated to ensuring our products are used as safely as possible. This is why we consistently promote best growing practices and provide tailor-made application methods to ensure the dose precisely matches the plant's specific needs.
Creating impact for a sustainable future
This commitment extends across every aspect of our organization and every link in the production process and supply chain.
Learn more