E-Max release technology is ICL's leading polymer coating that improves nutrient use efficiency. The controlled release of nutrients is based upon moisture and temperature, offering predictable longevities. Controlled release fertilizers are formulated to match the specific plant needs thanks to the different nutrient release longevities.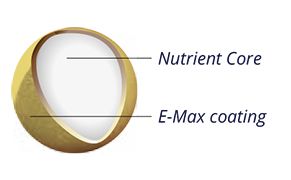 Why Use E-Max Release?
Strong durable coating enhances blending and application potential

 

Predictable longevities at different temperatures

 

Release mechanism based on moisture and temperatures

 

Low salt protects against toxicity

 

Reduces nutrient loss; leaching & volatilization 

 

Competitive price

 
Customized to Meet Crops Needs
E-Max Release Technology offers a range of longevity and release profiles.  
Based on changing the coating layer thickness we can produce E-Max granules with longevities of up to 5-6 months, making it possible to supply N to different crops with just one base application.  
How does E-Max Release

Technology

release

?
Influenced by the temperature, the semi-permeable coating regulates the daily release of nutrients. At higher temperatures the release of nutrients will be faster. At lower temperatures it will be slower, in line with the nutritional needs of the plant. 
Typical longevity appearing on the bags is for a scenario with soil temperatures of 21°C. These longevities will change with different temperatures, becoming shorter at higher temperatures and longer at lower temperatures. It is important to take this into consideration when choosing the right product for each situation. 
ICL introduced the first generation of coated fertilizers in 1967 and has been innovating ever since. Contact your local expert to learn more about finding the right E-Max Release Technology CRF for you.  
Agriform® Strawberry Mix Southern CA Short Term 22-7-11 delivers 7 months of nutrients for greater crop yields and superior quality fruit. Designed as a 100% resin-coated NPK and E-Max urea, Southern California strawberry growers recognize this as the industry standard for consistency and reliability. Designed for use on fall/winter planted strawberries from San Diego to Santa Maria, CA. One-third of the nitrogen comes from 100% coated urea. The coated urea increases the total nitrogen and is best suited for southern growing areas with warmer soil temperatures.