Wetting agents and better water management
Properly applied wetting agents can help nursery and greenhouse growers overcome growing challenges all season long.
Irrigation equalizers
As anyone in the growing business can tell you, even the best irrigation programs can struggle with water management and dry out. It's a fact of nature that some areas of the nursery or greenhouse dry out faster than others. If you're a grower, you know exactly what we're talking about—but you may not know how much wettings agents can help.
The challenge of substrate dry-out
Some of you know the routine all too well: You've measured moisture levels in your container fields or greenhouses, and everything looks great. But then moisture levels at the outer edges of blocks and containers drop dramatically. Left unchecked through several irrigation cycles, substrate starts repelling water. Then you're faced with re-wetting hydrophobic growing media—with water you could have used somewhere else.
Once a growing medium becomes water-repellent, it's no simple task to get your containers back to optimal moisture levels. Irrigation water gets channeled down pot sides, leading to runoff and wasted fertilizer inputs instead of the moisture your plants need.
If you're switching from peat-based growing media to peat-reduced or peat-free, changes in water-repellency can be significant. Some alternate substrates have a much lower water-holding capacity—which means watering more frequently or using more water each time.
The importance of water and uniformity
The greatest risk for developing water-repellency rests with containers at the outer edge of their block, greenhouse plants close to ventilation windows, and plants exposed to more direct sunlight or drying winds. Keeping moisture levels is easier said than done. Many growers watch the block's center to decide how much irrigation water it needs. By the time center plants start drying out, plants along the edges have been dry a while.
Water could be considered the single most essential substance for plant growth. It plays a key role in evaporation and transpiration, building strong stems and leaves, and nutrient transport and uptake. Without water, there's no growth—that goes for your crops and the business built around their success. But with wetting agents, you can optimize these essential functions and your water efficiency.
As Ian Bateman, our ICL Growing Solutions Western Region Territory Manager, put it, water is getting harder and harder to come by. Growers need to make the most of every input. "And here's the truth: You're likely using more water than you need to irrigate your crops," Ian says. "At ICL, we have the right wetting agent for the job—specifically designed and engineered for the horticultural mixes you are using right now."
Our wetting agents can help prevent water-repellency, improve water absorption and uniformity in pots, and minimize runoff and waste.
How wetting agents can help
In spring, wetting agents can help kick-start the first rounds of irrigation for early spring and overwintered stock. With plants kept as dry as possible through winter months, it can take several attempts to get substrate wet enough to apply liquid feed. Adding a wetting agent helps infiltrate growing media quickly.
During the season, wetting agents can help you save on labor and water costs. Edges make up about 10-15% of a block of containers in the field. That means 10-15% of your pots are prone to dry out faster than the rest. Without intervention, you can count on that same percentage to have growth issues and struggle with nutrient uptake.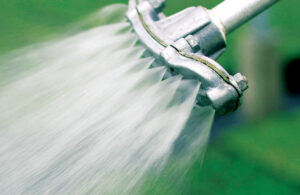 Applying a wetting agent ensures that water can evenly spread through containers, so the entire substrate gets wet—even water-repellent media. Containers will maintain moisture levels longer, especially ones along the edges. That can mean less frequent watering and less water used overall.
A third way wetting agents can help you grow your business is by improving shelf life and quality along the supply chain. This impacts customer satisfaction from wholesale clients on your lot to retailers to end-consumers in their gardens. Applied prior to shipping, wetting agents can help ensure your container-grown plants maintain quality, wet quickly for the end user, and make the most of any rainfall or irrigation.
At ICL, we're here to help you succeed—and that includes avoiding problems you don't need to have. With our H2Pro surfactants, you can cross dry out problems off your list and keep plants on track from your fields to consumer homes. Ready to learn more about wettings agents? Contact us today. Let's talk about your operation and how our growing solutions can help you win.