What are some of the latest horticulture trends?
From bringing back plants from bygone eras to a love of house plants, Rachel Anderson discusses what's "hot" in the horticulture world. 
"Mum, please can you look cool" was my teenage daughter's blunt request before I recently accompanied her to the concert of pop star, Lizzo. 
Whilst frantically searching through my wardrobe for something "cool" to wear, I immediately thought of the Barbiecore trend for the colour pink. Apparently, this craze for pink started back in 2020 when Mattel's Barbie doll toy was re-released. 
It's a trend that is still noticeable in the fashion world and it has also influenced the horticulture sector – with green foliage frequently injected with flashes of cheerful pink flowers.  
But whilst there will always be a place for pink flowers in the horticulture market, I'm no longer convinced that pink is "where it's at." 
As I cast my (short-sighted, middle-aged) eyes around the stands and displays at the Horticultural Trades Association (HTA)'s annual Garden Press Day earlier this year, the colour pink did not take centre stage. But I did observe the following trends: 
Houseplants: here to stay 
Like the Barbiecore trend, the craze for houseplants started during the height of the pandemic. But the popularity of houseplants is more than just a fad.  
Mike Opperman, managing director of Opperman Plants – whose nursery produces some two million houseplants per year, notes that houseplant sales are still higher than they were before the start of the Covid pandemic. "Sales in this category are doing really well, especially with living environments being much smaller now and the many health benefits of houseplants now being widely recognised." 
He notes that the older generation have been buying houseplants for years but there's now a completely new generation of millennials (Generation Y) "who really are spending a lot of money on houseplants. One market has become two. And not just in the UK – it's around the world." 
Judging by the jungle-like vibe of my daughters' bedroom, Generation Z is also getting in on the houseplant trend (although it's me who's keeping her plants alive). 
Blame it on the juice? 
Meanwhile, my 11-year-old son is the proud owner of a pineapple plant. Unlike my generation (Generation X), who grew up listening to the children's party favourite "Agadoo doo doo, push pineapple, shake the tree," I want my son to grow up being fully aware that pineapples come from a bush and not a tree. Which brings me to the trend for fruit trees and bushes – another popular product amongst consumers at the moment, notes Newey Group's Freya Barrett. There are likely to be many reasons for this trend. Perhaps their longevity/value for money is a consideration – as is their "feel good" factor. Or maybe they remind some of us of our childhood, blackberry picking and the like.  
Heritage and classic plant varieties 
Certainly, the strained state of the world is leading us to seek comfort in the nostalgia that fruit trees and bushes, and heritage and classic plant varieties, evoke. A five-year collaboration – formed last summer (2022) between the garden centre group Blue Diamond and the National Trust – is certainly cheering us all up.  
This is because the agreement is seeing Blue Diamond propagate some of the National Trust's significant, unusual, and unique plants. These include a summer-flowering bulb collection, a bare root roses collection, a potted roses collection, and a seed collection of more than 60 flowering varieties (including native wildflowers such as poppies and cornflowers). "Not gonna lie" (as my daughter would say), illustrator Madeleine Smith's seed packet designs are so lush they look good enough to eat.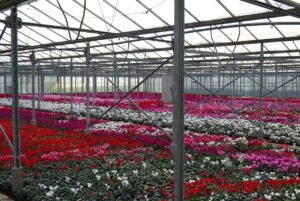 Feeling fabulous about fairtrade  
Purchasing sustainably-made products also helps us to make a positive impact on this crazy world. We will therefore likely see more fairtrade gardening products on the shelves. For example, Wildlife World – the company that produces the popular Fairtrade artisan bird nesters made out recycled saris – has happily expanded its product range. It now includes a bug hotel and bee nesters – with every purchase helping to fund families in Bangladesh out of poverty. 
Low maintenance and hardy 
As the Newey Group's Freya Barrett highlighted, people have less time to tend to their gardens than they did during lockdown. They are therefore opting to buy outdoor plants that are low maintenance, good value, and able to withstand our increasingly-extreme weather patterns. These types of plants may include, for example, evergreen shrubs such as cordylines or winter-hardy perennials such as hydrangeas. 
And so, when considering how their product lines may change in future, growers might like to be mindful of all of the trends I've mentioned. Which reminds me, I must go and water my daughter's plants…