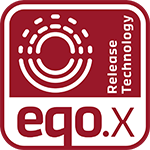 ICL's eqo.x is the innovative biodegradable release technology that brings controlled-release fertilizers to a new era. This CRF technology for soil-grown crops helps farmers maximize their crop's performance while reducing the crop's environmental footprint, making it an excellent solution for sustainable agriculture.
We are introducing eqo.x to our coated fertilizer products, including our Agrocote and Agromaster controlled release fertilizers. The eqo.x release technology delivers the same excellent performance as our existing technology, but with the added benefit of leaving no residue in the soil once the nutrients have been released.
How does eqo.x work?
The eqo.x release technology is a biodegradable technology for controlled-release fertilizers. CRFs have a special coating that encloses each granule of nutrients, controlling the rate, pattern, and timing of the nutrient release. While the eqo.x technology is innovative, the basic principle is straightforward:
water from the soil penetrates the coating,
the nutrients start to dissolve, then
the nutrients are released through the CRF system ready for the plants.
The differentiating feature of CRF fertilizers, compared to conventional fertilizers, is that the coating controls the rate of nutrient release according to the soil temperature. At lower soil temperatures, crop growth is slower, reducing the nutrient needs of the plants, so the CRF slows down the release of nutrients. In warmer conditions, the rate of nutrient release is higher, matching the plants' greater demands for nutrients.
What makes eqo.x release technology different to other coating technologies is that once the nutrients are released, the coating shell degrades rapidly and completely in the soil to just CO2 and water, leaving no residue.
What are the benefits of eqo.x release technology?
The eqo.x release technology has multiple benefits:
Eqo.x is a fully biodegradable coating technology ideal for sustainable farming
The consistent and predictable nutrient release is steered by soil temperature to match plant needs
Available in longevities from 1-2 to 5-6 months (at an average soil temperature of 21°C)
Does eqo.x comply with the European Fertilizer Products Regulation?
Our eqo.x release technology complies with the European Fertilizer Products Regulations (FPR) in respect of the biodegradability of coatings. The regulations are due to be introduced in 2026.